How To Use The Timeline To Understand Yourself & Set Meaningful Goals
Today's post continues with the aim to inspire you to take control of the direction of your life.
To identify a meaningful and motivating future direction it is helpful to know your starting point. That is why we in earlier posts have looked deeper into your current problems.
Now we will start looking at your past. This can help you evaluate which areas you want to set new goals within. A concrete tool that you can use to understand what may need to change in your life on a deeper level is the timeline.
Exploring some background is often used within therapy to identify important patterns and/or focus areas. Mapping out one's background has been shown to have a calming and enriching impact on psychological well-being. However, if you know that you are suffering from trauma or feeling very resistant to this exercise, you should not do this by yourself, but together with a licensed therapist.
A timeline consists of two axes: one vertical axis for your mental health on a scale ranging from minus 10 = worst possible mental health to +10 = best possible mental health, where 0 = neither good nor bad, in-between/neutral.
The other horizontal axis shows time-intervals over your age, e.g. 5 year-intervals.
The illustration shows an example for 'Anne'. More about this exercise next week.
Courses in effective stress management, healing exhaustion and strengthening self-esteem at https://www.jennyrappbefree.com/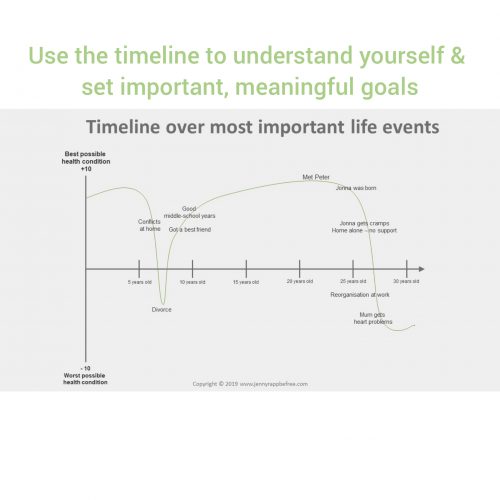 #lifegoals #goals #values #wwwjennyrappcom #cognitivebehavioraltherapy
#CBT #selfhelp #wellbeing #lifedirection #free #reflection #lifestrategies #healthyhabits
#selfhelpexercise  #postoftheday #photo #love #life #happy #motivation
#healthy #lifestyle #inspiration #befree #befreewithpsychology #psychology